A deck can accent your home and add value when done right. There's a large variety of decks to select from and hiring a professional to assist with your ideas can help you achieve your goal. For Kansas City homeowners needing exterior remodeling services, consider Outdoor Environments where you will receive expert advice and assistance on the right deck for your backyard.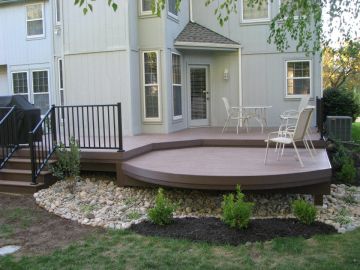 Decks in Kansas City range from platform to multi-level decks. At Outdoor Environments we can help you decide which one is best. For the simplest style consider a low to the ground, platform deck.
It's built on leveled ground and doesn't require railings. Pressure treat the wood and give coats of protective sealer to preserve the deck for many years to come. A freestanding deck isn't connected to the house, requires little expense or work.
A raised deck is higher off the ground, needing railings and stairs for added safety. You can hide exposed posts with vines and plants. A two story deck allows you to enter your backyard from the second floor. A multi-level deck is connected through stairways and walkways and is ideal for uneven lots. Become creative on how to hide exposed posts with decorative boards and skirting.
Consider these options when choosing the right deck for you. Contact us if you're looking for professional help.